Extruded Products
Composite Products of America is now producing safe, sturdy, and attractive consumer products from Fluff®. Fluff is manufactured from 100% recycled material.
The building and construction materials shown below are all made from extruded "Fluff." Fluff is a stable and pathogen free product that has been processed through our patented recycling process.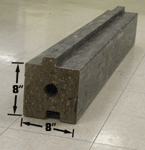 Fluff can be extruded to make various profiles of materials. 8" x 8" tongue and groove boards are being produced at Composite Products. The tongue and groove is slightly offset for use as building material or as a retaining wall.
The possibilities for uses of the new products are as nearly limitless as the supply of material used to make them.